Ease of Doing Business at Gujarat Gas Limited
Easy access to fuel for any industry / commercial establishment / households is essential to conduct their basic operations and daily activities. In the State of Gujarat, Gujarat Gas Limited has developed more than 15,000 KMs of gas pipeline network spread over 19 districts catering Piped Natural Gas to more than 10.27 Lacs Domestic households, 2,778 Small & Medium Industrial units, 11,500 Commercial & Non-Commercial Setups and CNG to the transport segment through its more than 235 CNG stations.
Gujarat Industrial Policy 2015 focuses on 'Doing Business' in Gujarat with ease that includes simplification of procedures and improvement of business environment. As part of this initiative, Gujarat Gas Limited, a leading 'Customer Centric' City Gas Distribution Company has implemented several measures for Ease of Doing Business by simplifying its following business practices and making them easier and customer oriented:
Getting Piped Natural Gas (PNG) Connection for Domestic, Commercial & Industrial Usage
Investment in CNG Business
Gujarat Gas Limited has simplified the process of getting PNG connection by putting all information about Piped Natural Gas (PNG) availability, Registration & Connection process, Bill payment options and Customer care services on its website.
Major Initiatives for Ease of Doing Business
Online Bill Payment for Domestic Connection
Online Bill Payment through eGram Centres for Rural customers
Initiated Online Meter Reading Submission on trial basis
Online Complaint Submission & Speedy Disposal Mechanism
Real Time On The Spot Meter Reading and Bill Generation
Investment in CNG Business
Ease of Doing Business at Gujarat Gas Limited for PNG Segment: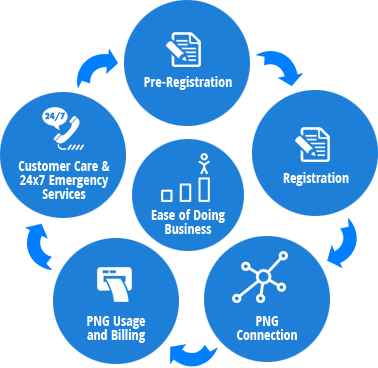 Ease of Doing Business at Gujarat Gas Limited for PNG Segment: